Vampire Trouble by Sara Humphreys-Review, Interview and Giveaway
Vampire Trouble
Dead in the City #2
by Sara Humphreys
Genre: paranormal, romance, adult, contemporary
Release Date: July 1, 2014
Amazon.com / Amazon.ca / Amazon.uk/ Barnes and Noble / KOBO / The Book Depository
Shane Quesada, a four-century old vampire sentry, is known for cold, unemotional precision when hunting rogue vampires.
Maya Robertson is a youngling vampire who will not be controlled—and to prove it, she rejects Shane's protection—only to find herself in over her head with an alpha werewolf.
Soon, a war between the coven and the werewolf clan ignites, and Maya and Shane flee to Louisiana, where their passion for each other grows—as does Maya's power. When she finds herself at the center of the conflict, will she finally trust Shane with her life—and her heart?
•••••••••••••••••••
REVIEW: VAMPIRE TROUBLE is the second instalment in Sara Humphreys' contemporary, adult Dead in the City paranormal romance series that is a spinoff from her popular Amoveo Legend series. This is four hundred year old vampire Shane Quesada and youngling vampire Maya Robertson's story. Maya was first introduced in book one Tall, Dark and Vampire. Because of the Amoveo Legend crossover, many of the secondary characters will be familiar to readers of Sara's other series.
The focus of the storyline is on Shane and Maya's building relationship as well as the slowly evolving war between the werewolves and the New York Coven. One werewolf in particular has targeted Maya for extermination and Shane has been ordered to guard Maya with his life. Finding themselves secluded in Louisiana, Maya will discover that she is much more than a youngling vampire and the wolves are determined to end her life. A gypsy woman will begin to uncover the truth about Maya's past and it is a past that has followed her to the Bayou.
The relationship between Shane and Maya is tepid and volatile. Shane has been attracted to Maya in a way that can only be explained through DNA but Maya's attitude, anxiety and acidic personality are something that only a bloodmate would find appealing. As the storyline builds, so too does the relationship that will find our couple fighting for their lives as well as their love. The sex is sensual, passionate and arousing but Shane's love for Maya may not be enough to keep our couple safe or together.
The world building continues from book one with the inclusion of many of the previous storyline characters including the New York Coven czars Doug and Olivia and a number of the Amoveo Legend vampires, shifters and supernatural powers. Sara does an amazing job crossing over and the blending between the two series with the familiarity of many names, places and powers.
VAMPIRE TROUBLE is a seductive storyline where two vampires will find love and a happily ever after. Sara Humphreys writes an intelligent, inventive and spirited series where the impossible seems possible and the improbable has already began.
Copy supplied by the publisher through Netgalley
Reviewed by Sandy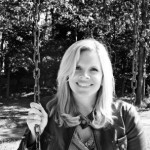 TRC: Hi Sara and welcome back to The Reading Café
Sara: Thank you! I'm so excited to be here 🙂
TRC: Congratulations on the release of VAMPIRE TROUBLE –the second book of your Dead in the City paranormal series.
When last we talked –August 2013-you had just released the first installment in the Dead in the City series- TALL, DARK AND VAMPIRE. How were the book and series received by the readers?
ORDER:  Amazon.com / Amazon.ca / Amazon.uk/ Barnes and Noble / KOBO / The Book Depository
Sara: I was thrilled to see so many of my Amoveo Legend readers go right to the new vamp series and welcome it with open arms. It was also a great way to connect with new readers. So far so good!
TRC: Would you please tell us something about the premise of VAMPIRE TROUBLE?
Sara: Sure! Maya is a vamp bartender at The Coven, the hottest Goth nightclub in NYC that is run by a coven of vampires. Maya Robertson is a youngling vampire who was turned only five years ago. Her only clear memory of her human life is the night she was turned. Raped and beaten, her maker, Olivia, found her in an alley behind the nightclub and turned her. Maya relives the attack every day in her dreams. To mantain some sens of control, she hunts human men who look like her attacker but never kills them. She feeds on them and toys with them the way a cat would with a mouse. Let's just say, the girl has some issues.
Shane Quesada is a four hundred year old vampire sentry and an elite soldier for The Presidium, the vampire government. Nothing rattles him. Until he meets Maya and is unexpectedly pulled into her nightmares. Vampires stop dreaming about ten years after they are turned, so when Shane finds himself in the dreamscape after centuries of leaden slumber, he knows Maya is more than just a random youngling.
When a pack of werewolves comes to the city unannounced, Maya finds herself in over her head. The impulsive and tempestuous little vamp causes her share of trouble but let's just say that Shane is there to help her navigate her increasingly dangerous future.
TRC: What challenges or difficulties (research, logistics, background) did you encounter writing this particular story and series?
Sara: It was important to make Maya likable because in TALL, DARK, AND VAMPIRE (DIC #1), she wasn't particularly popular. She's kind of a pain in the ass and a bit of a spoiled brat but in this book readers get to find out why Maya is the way she is. Also, due to her violent past, I wanted to be sure she was empowered by Shane but not dependent upon him. It was challenging to find that balance.
TRC: UNCLAIMED was the December 2013 release in your Amoveo Legend series. What do you have planned next for the series?
ORDER:  Amazon.com / Amazon.ca / Amazon.uk/ Barnes and Noble / KOBO / The Book Depository
Sara: In February 2015 we will be releasing UNBOUND. It's an Amoveo Legend novella featuring an Amoveo Guardian named Zachary. Readers met him in UNCLAIMED and his story is a bit different from all the others. I don't want to give too much away but it has a Romeo and Juliet vibe…but with a happy ending. I also have two other Amoveo Legend novels planned, one of which is Steven's story. He's become a fan favorite and the poor guy got put through the ringer, so he definitely needs his HEA.
TRC: What are your thoughts on writing a series and ending an installment with a major cliff hanger?
Sara: I'm okay with cliffhangers in romance as long as it's not about the hero and the heroine. The readers deserve to see the hero and heroine get an HEA even if it's an HEA "for now". That being said, I think it's perfectly acceptable to have background characters involved in cliffhangers.
TRC: When writing a storyline, do the characters direct the writing or do you direct the characters?
Sara: I start with an overall path in mind but more often than not, the characters tell me where to take them.
TRC: Who or what influenced your career in writing?
Sara: My husband has been my biggest cheerleader from day one and if it weren't for his support, I wouldn't be doing this for a living.
TRC: When not writing, what do you do to relax?
Sara: I love to read and I'm a movie junkie. When I turn in a book, I treat myself and go to the movies alone in the middle of the day. It's awesome.
TRC: What three things would you like to accomplish in the next five years?
Sara:
1. Improve my writing. Every book should be better than the last.
2. Make the NYT and/or USA Today Bestseller lists.
3. Publish my YA series–Daughters of Heaven and Hell.
TRC: What is something that few, if any people, know about you?
Sara: I'm not telling. That's why few people know about it 😉
TRC: On what are you currently working?
Sara: BRAVE THE HEAT. It's book one in my first contemporary romance series, The McGuire Brothers. Look for it next July.
TRC: Would you like to add anything else?
Sara: Just to say thank you…I'm so very lucky to do what I do for a living.
LIGHTNING ROUND
Favorite Song
At the moment….The Sound of Sunshine.
Favorite Musical Group
The Eagles
Last Movie You Saw
Constantine
Last Book You Read
Her Perfect Mate by Paige Tyler
Last Vacation Destination
New Orleans for #RT14.
Pet Peeve
Mean people. They suck.
TRC: Thank you Sara for taking the time to answer our questions. It is always a pleasure catching up with our favorite authors.

Sara and her publisher are offering a paper copy of VAMPIRE TROUBLE to ONE (1) lucky commenter at The Reading Cafe
1. If you have not previously registered at The Reading Cafe, please register by using the log-in at the top of the page (side bar) or by using one of the social log-ins.
2. If you are using a social log-in, please post your email address with your comment.
3. LIKE us on FACEBOOK and then click GET NOTIFICATION under 'liked' for an additional entry.
4. LIKE us on Twitter for an additional entry.
5. Like Sara Humphreys on Twitter
6. Giveaway is open to USA/Canada only.
7. Giveaway runs from July 17-July 22 , 2014