White Collar Cowboy-Review and Blog Tour
White Collar Cowboy
Shadow Maverick Ranch Novella
by Parker Kincade
Release Date: March 2, 2014
Genre: contemporary, western
Amazon.com / Amazon.ca / Amazon.uk/ Barnes and Noble / KOBO /

ABOUT THE BOOK: Release Date March 4, 2014
Gavin Mathis is ready to settle down. He's quit his job and come home to Shadow Maverick Ranch to do just that. Too bad his decision caused his beautiful former colleague to lose her job.
Lauren Delgado is a no-nonsense businesswoman. She's had a crush on Gavin for years, but has a strict "hand-off" policy with the men she works with. When her life takes an unexpected turn, there's nothing to stop her from accepting his invitation to Galveston Island, where the policy is definitely hands-on.
•••••••••••••••••••••••••
REVIEW: WHITE COLLAR COWBOY is the first instalment and novella in Parker Kincade's adult, contemporary, western Shadow Maverick Ranch romance series. This is Gavin Mathis and Lauren Delgado's story. Gavin, along with his twin sister, are the eldest Mathis siblings and he is about to take over the reigns at the family's Shadow Maverick Ranch.
The focus of the storyline is the building relationship between Gavin and Lauren. A friends to lovers storyline, the reader is pulled into a story where Lauren must make a decision about her future, now that she is unemployed. Enter Gavin Mathis-a former colleague and the man she has crushed on for close to twelve years. When Gavin offers his house on the beach for a weekend to relax, Lauren is quick to accept not realizing that Gavin too, may have had plans of his own.
The world building introduces Gavin's close knit family of five siblings who will be working together towards a common goal-in this-there is the potential for five more storylines. WHITE COLLAR COWBOY is a quick and erotic read that will pull you in from the very start. The sex scenes are sensual and arousing; there is never any question that our couple is attracted to one another. The storyline is well paced for a novella and there is none of the 'rush to the finish' of some short stories.
Parker Kincade has written an captivating storyline about two people who have loved one another from afar and have been given a second chance for a happily ever after. I can see myself becoming addicted to the storylines from the Shadow Maverick Ranch.
Copy supplied by the author
Reviewed by Sandy

Gavin reached the shore and dragged his tired limbs from the water. He snatched up his clothes and walked, naked and unconcerned, up to the house. His legs protested as he climbed the stairs to the porch. Maybe he had overdone it a little, but he resisted falling into one of the deck chairs, instead dropping his stuff outside the door as he slid it open. A quick shower to rinse the Gulf from his skin, maybe a beer or two, and he was done.
As he breeched the threshold, a movement to the left caught his attention and he turned, completely gobsmacked by what he found.
His weakened limbs found the renewed strength to hold him in place, standing completely still so as not to shatter the vision before him.
She was here. She was actually here.
Gavin watched in utter fascination as Lauren slipped the shirt from her shoulders. Inch by gorgeous inch, she unknowingly revealed her back to him. The creamy skin made his mouth water. His body tensed and he yearned to reach out, to touch, to tease, to pleasure.
Obviously, she thought she was alone. He should make his presence known. Shouldn't stand here and watch as she unhooked her bra. And definitely shouldn't watch as she … sweet mercy, was she caressing her—fuck.
A flash of lust burned through him. Gavin licked his lips, his tongue suddenly desperate for something to do. His gaze focused on the movement of her arms as she cupped her breasts. He'd give anything to know what, who she was thinking about right now. He wanted it to be him, hoped it was him. It was wrong, so wrong, yet he remained still, transfixed, waiting to see what she did next.
A tiny sound emerged from her throat, and his cock hardened in response. Her arms dropped. So did his gaze. The shimmering blue panties she wore didn't quite cover her butt cheeks and he groaned as she bent to pick up what appeared to be a bikini top. Not panties then. Jesus, she was changing into a bathing suit. Not performing some kind of erotic strip tease.
Lauren spun, slapping her palms to her breasts. Not fast enough to keep him from seeing her tawny nipples, both drawn up to tight little buds.
Her gaze drifted over him, lingering over his chest before heading lower. Her eyes widened as she took in the rest of him. "W-what are you doing here?"
He made no attempt to cover himself. "It's my house." Simple, to the point. Truth. And all he was capable of at the moment.
Her fingers tightened, her breasts threatening to spill from the confines of her small, delicate hands. Hands he'd like to replace with his own.
"That's not what I meant. You said you were leaving tonight."
He nodded slowly. "Yes, and I did. You never asked me where I was going."
"So, you asked me to come, but thought I wouldn't if I knew you'd be here?"
He could practically hear the gears turning in her head. And he appreciated the fact she was pleased with what she saw, but she was making coherent thought damn near impossible.
"Staring at it like that is only going to make it worse, sweetheart," he said gently.
Her eyes snapped up, a light blush staining her cheeks. "Like what?"
"Like it's candy." She was killing him. He couldn't remember ever being so hard. The stubborn set of her chin, the darkening of her eyes, everything about her intrigued him, called to him.
"I need a shower." The saltwater from his swim was already starting to make his skin itch, and he needed to get the hell away before he tossed her to the couch and fucked her blind.
He looked her up and down again, taking full advantage of his first opportunity to see her body, the curves that had tempted him for so long. She was even more beautiful than he'd imagined. Lean, muscular legs, rounded hips and an ass he'd like to sink his hands into. Breasts too big for her smaller hands, but perfect for his.
"Unless you'd like to join me, I'd suggest you put on something more substantial." He glanced pointedly the apex of her legs. "Because knowing I'm one scrap of material from having you naked is driving me crazy." As if she hadn't seen the rock-hard evidence of his arousal already.
Slowly, her lips curled upward. "Well, I seem to remember you telling me I could help myself to anything I wanted." She dropped her hands, baring her nipples for his view. "So, yes, Gavin. I think a shower sounds perfect."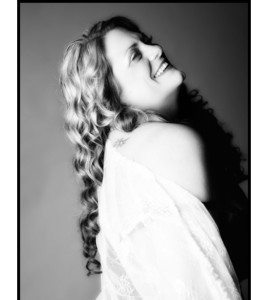 Parker Kincade is the award-winning erotic romance author of The Martin Family Series. Her first novel, One Night Stand, won the 2013 Reader's Crown Award for Best First Book, the category of Best Erotic Romance in the Celtic Hearts Romance Writers Golden Claddagh contest and was named finalist in the Romance Writers of America/Passionate Ink Stroke of Midnight contest.
Parker lives in the southern United States with her husband, children and beloved boxer sidekick. She loves reading, playing golf, spending time with her family and friends, ice cream from the ice cream truck, taking her dog to the park and watching old musicals.
Website: http://www.parkerkincade.com
Blog: http://www.parkerkincade.blogspot.com
Facebook: http://www.facebook.com/parkerkincade
Twitter: http://www.twitter.com/parkerkincade
Group Blog: http://www.lovelustandlaptops.wordpress.com

NOTE: The Reading Cafe is NOT responsible for the rafflecopter giveaway. If you have any questions, please contact the blog tour promoter.