Wolf Hunger by Paige Tyler – Review, Excerpt & Giveaway
Wolf Hunger
SWAT series – Book #7
by Paige Tyler
Release Date: December 5, 2017
Amazon / B&N / Kobo / BAM / Book Depository / iBooks
Description:
SHE'S ALL THE WOLF HE'LL EVER NEED…
When SWAT Officer Max Lowry meets Lana Mason, he falls fast and hard. He's positive she's The One. And Max's favorite part? Lana's a wolf shifter too, so they can skip the awkward reveal and head straight to the happily ever after. There's just one problem: Lana doesn't know that she's a werewolf.
To make matters worse, hunters with intent to kill have tracked Lana to Dallas. Max has to figure out how to keep Lana safe, show her who and what she really is—and just how much she means to him.
Review:
Wolf Hunger by Paige Tyler is the 7th book in her wonderful SWAT (Special Wolf Alpha Team) series. As always with Tyler, she continues to give us exciting, fun, pulse pounding action, hot alpha werewolves and a great sexy couple. 
Max Lowry, one of the younger members of the SWAT  team and our hero, is in a bar with his friends when he scents another wolf.  He sees a beautiful woman, and knows she could be the 'one' (his mate).  
Lana Mason, our heroine, is the daughter of Deputy Chief Hal Mason, who does not want her anywhere near the men of the SWAT team. Lana and Max hit it off immediately, as their chemistry is off the wall hot, but Max senses that Lana has no idea that she is a werewolf, since she has never shifted. 
When Lana is informed that  her friend has been murdered, she notices others following her.  Lana manages to escape, and feels strange vibes happening to her body, including her ability to run abnormally fast;  however she brushes it off.  When Max is worried about Lana, he tries to explain to her what she is, and she becomes scared and leaves.  But when she is forced into another dangerous situation, Lana will learn the truth.
In Wolf Hunger, the storyline changes, with the Hunters (those trying to kill werewolves) coming full force into the picture and a war is on the horizon.  The Hunters have developed a chemical weapon that poisons and kills werewolves, putting all of our hero's lives in danger.
What follows is an intense and exciting story, where Gabe (SWAT team leader) pulls everyone (including Lana) together for safety, and helping to find a cure for the poison.  As everything escalates, Lana will find herself right in the center of the battle, with the Hunters determined to kill her, as well as the other werewolves.  She will play a major part in helping her new friends survive. 
There is also a side story, where Max is in the middle of helping a family with a abusive husband/father.  Max as a teenager lived in that same type of environment, have lost a sister.  It was nice added element watching Max try to help.
The Wolf hunters will now play a major part in future story lines, and the pack is also now getting bigger, with betas and omegas joining them.  As we raced to the exciting suspenseful climax, we held our breaths as to who will survive.  Another great addition to this series, especially with this game changer.
 I love this series. It is always fun, exciting, sexy, with a fantastic group of characters that make up the SWAT team, and their eventual mates.  Paige Tyler does it so well, giving us the excitement in every story, as well as a sexy romance.  If you have not read this series, you should start it now with the first book.
Reviewed by Barb
Copy provided by Publisher
"Speaking of award ceremonies," she said to Max, "I didn't see you on the stage getting a commendation, so I'm guessing you must be here to support someone who did?"
He nodded. "Yeah. Some of the members of my team got recognized today. How about you? Your boyfriend getting a commendation?"
Max thought he was being pretty damn smooth, but the smile tugging at Lana's lips told him she saw right through his deception.
"Nope, no boyfriend," she said. "Actually, it was my dad. Brandy took forever getting dressed. Then we got stuck in traffic. We barely made it here in time to see him get the award. I had to watch from the back of the auditorium."
That explained why Max hadn't picked up Lana's luscious scent earlier. And while he was relieved she didn't have a boyfriend, it made him wonder which of his fellow cops getting a commendation this afternoon could possibly have a daughter this smokin' hot.
Max opened his mouth to ask her who her father was when another DPD officer walked by with a plate filled with a collection of various hors d'oeuvres. While Max wasn't impressed with the selection of food, Lana looked at the appetizers longingly, even though she still had the ones her friend had given her. Maybe she wasn't big on squash blossoms. He didn't blame her.
"Would you like me to get you something else to eat?" he asked.
She glanced down at her plate, then shook her head. "Thanks, but unfortunately, the spinach puffs were the only thing remotely edible, which is probably why they're all gone. I can't believe they're trying to pass this stuff off as food."
He grinned. "I was just thinking the same thing a little while ago. I'm planning to head out as soon as this thing is over so I can get some real food."
She leaned in close and gave him a conspiratorial wink. "Maybe we can slip out now while no one is looking. I can drop my car keys off with Brandy and we can disappear into the night. I'd just about kill for a slice of pizza."
Any other time, Max would have been stoked to hear that. In his opinion, there wasn't anything sexier than a woman who loved pizza. But right then, all he could think about was how his body was reacting to Lana's nearness. Not only was his pulse racing, but his claws and fangs were dangerously close to coming out. He only hoped his eyes weren't turning gold.
On the upside, at least he now knew for sure she was a werewolf. He could smell it in her pheromones. That was probably why they hit it off so well. Well, there was another reason, but he wasn't about to go there—even if a little wolf voice in the back of his head whispered maybe he should.
Lana was telling him about an awesome pizza place that wasn't too far away, wondering if he'd be interested in checking it out, but instead of answering her, he went in a completely different direction.
"It's so cool finding another of our kind here," he said. "I totally didn't expect it."
She didn't seem to mind that he'd changed the subject, but she looked a bit confused. "Another of our kind? Are you a pescatarian, too?"
Max chuckled. That body and those looks combined with a wicked sense of humor? It was like she was made for him. A werewolf who didn't eat meat? Now, that was epically funny.
Unless it was true, in which case it was a little strange.
Before he could say anything, Lana leaned over to look at something behind him, her lips curving into a smile. Max turned to see who she was looking at and was a little surprised to find Deputy Chief Hal Mason. The deputy chief was in charge of the police department's specialized Tactical Division, which included the mounted police, canine unit, helicopter support, EOD, and SWAT. As a high-ranking officer in the department, Mason had to attend every award ceremony, but this time he'd been recognized for his commitment to developing his entire division, especially SWAT.
"Hey, Dad." Lana stepped around Max to give Mason a hug. "I was looking for you and Mom earlier, but you were deep in conversation with some people and I didn't want to interrupt."
Max picked his jaw up from the floor and shoved it back into place. Lana was the deputy chief's daughter?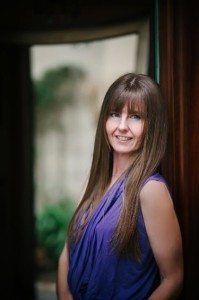 Paige Tyler is the USA Today bestselling author of sexy, romantic fiction. She and her very own military hero (also known as her husband) live on the beautiful Florida coast with their adorable fur baby (also known as their dog). Paige graduated with a degree in education, but decided to pursue her passion and write books about hunky alpha males and the kickbutt heroines who fall in love with them.
Find Paige Online:
Website: http://www.paigetylertheauthorextras.com/
Facebook: https://www.facebook.com/PaigeTylerAuthor/
Twitter: @PaigeTyler
Goodreads: https://www.goodreads.com/author/show/2300692.Paige_Tyler

There are TWO (2) ways to win !
Comment for your chance to  win a paper copy of WOLF HUNGER to ONE (1) lucky commenter at The Reading Cafe.
1. If you have not previously registered at The Reading Cafe, please register by using the log-in at the top of the page (side bar) or by using one of the social log-ins.
NOTE: If you are having difficulty commenting after logging onto the site, please refresh the page (at the top of your computer).
2. If you are using a social log-in, please post your email address with your comment.
3. Please follow PAIGE TYLER Facebook.
4. LIKE us on FACEBOOK and then click GET NOTIFICATION under 'liked' for an additional entry.
5. LIKE us on Twitter for an additional entry.
6. Please FOLLOW us on GOODREADS for an additional entry.
7. Please follow The Reading Cafe on Tumblr
8. Giveaway open to USA only
9. Giveaway runs from December 4 – 8, 2017
NOTE: The Reading Cafe is NOT responsible for the rafflecopter giveaway. If you have any questions, please contact the tour promoter.