Fiancee For Hire (Front and Center #2) by Tawna Fenske-a review
Amazon.com / Amazon.ca / Amazon.uk/ Barnes and Noble / KOBO /
ABOUT THE BOOK: Release Date July 21, 2014
Former Marine MacArthur Patton has made a small fortune on top-secret government contracts and black-ops missions, but his new assignment involves something more dangerous—marriage.
Well, fake marriage anyway.
To keep weapons out of the hands of terrorists, Mac has to secure a fiancée. A sweet, demure, compliant fiancée to serve as his arm candy for a few weeks while he completes the covert arms deal in Mexico. His sister claims to know just the woman, and sends her best friend to play the role.
"Sweet" and "demure" aren't in Kelli Landers's repertoire. A badass veterinarian who neuters big dogs and bigger men on a regular basis, she can't wait to bring Mr. Tall-Dark-and-Detached to his knees. Her longtime crush on the commitment-phobe makes her plan to seduce him even sweeter.
Love wasn't part of the plan, but the deeper Mac and Kelli fall into their ruse, the more danger they attract, until more than just their hearts are on the line…
•••••••••••••••••
REVIEW: FIANCEE FOR HIRE is the second instalment in Tawna Fenske's adult contemporary Front and Center erotic romance series. This is former marine MacArthur (Mac) Patton and veterinarian Kelli Landers's storyline. Mac and Kelli were first introduced in the first instalment 'Marine for Hire'-Mac is Sheri's brother and Kelli is Sheri's best friend. Although this is the second book in the series, it can be read as a stand alone without too much difficulty.
The focus of the storyline is Mac's need for a 'fake fiancee'. Under cover, working on an illegal arms deal, Mac let it be known to his contacts in Mexico that he was newly engaged. Needing someone to portray his fake fiancée, Mac looks to his sister's best friend Kelli. Little does Mac realize but Kelli has had a crush on Mac since she was a young girl.
The relationship between Mac and Kelli is one born of necessity that turns into something more. Both Mac and Kelli are afraid of commitment; afraid of losing someone they love; and afraid to allow anyone close enough to inflict heartbreak and pain. Mac barely remembers Kelli as his sister's best friend and discovering there is more to Kelli than a pony-tailed little girl, leaves Mac reeling with emotions he cannot explain. Playing along with the impending nuptials, Kelli and Mac find themselves thrown into dangerous situations where Mac nearly loses Kelli on numerous occasions. Someone is out to destroy Mac's plans using Kelli as a pawn in an arms deal that goes terribly wrong.
Tawna Fenske pulls the reader into a story of forbidden love between two people who go into the fake relationship knowing that nothing will ever come of it in the end. But like everything in life, nothing is ever a given when Kelli and Mac open their eyes and hearts to the possibility of a happily ever after.
FIANCEE FOR HIRE is a fast paced, erotic and intimate look at a relationship built upon a lie. The secondary characters include Mac's mother Stella and brother Grant, as well as the armed players in a game of terrorism and weapons deals. Mac's sister Sheri makes an appearance as the go-to woman for her best friend when things begin to heat up between Kelli and Mac.
Copy supplied by the publisher through Netgalley
Reviewed by Sandy
Follow Tawna: Goodreads / Twitter / Website / Facebook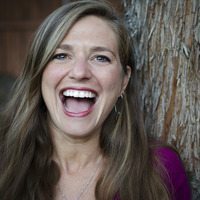 Tawna Fenske traveled a career path that took her from newspaper reporter to English teacher in Venezuela to marketing geek to PR manager for her city's tourism bureau. An avid globetrotter and social media fiend, Tawna is the author of the popular blog, Don't Pet Me, I'm Writing, and a member of Romance Writers of America. She lives with her gentleman friend in Bend, Oregon, where she'll invent any excuse to hike, bike, snowshoe, float the river, or sip wine on her back deck. She's published several romantic comedies with Sourcebooks, including Making Waves and Believe it or Not, as well as the interactive fiction caper, Getting Dumped, with Coliloquy and the novella Eat, Play, Lust, with Entangled Publishing. Her quirky brand of comedy and romance has won praises from RT Book Reviews, which nominated Making Waves for Contemporary Romance of the Year, and from the Chicago Tribune, which noted, "Fenske's wildly inventive plot & wonderfully quirky characters provide the perfect literary antidote to any romance reader's summer reading doldrums."