The Riding Master by Alexandrea Weis-a review
The Riding Master
by Alexandrea Weis
Release Date: april 26, 2014
Genre: contemporary, adult, romance, suspense
Amazon.com / Amazon.ca / Amazon.uk/ Barnes and Noble / The Book Depository
THE RIDING MASTER by Alexandrea Weis
About the book: Release Date April 26, 2014
A woman finding her way.
After a devastating divorce, an emotionally skittish Rayne Masterson swears off men and vows to devote her life to her passion, horses.
A man with insatiable desires.
Trent Newbury is an expert rider who is arrogant, brash, and has a ruthless reputation for getting any woman he desires.
As the new riding master at Southland Stables, Trent is eager to make sure all of his riders are the best they can be. But when he meets Rayne, he takes a special interest in taming the beautiful woman's stubborn nature. Slowly and deliberately, he weakens her defenses with his charm and beguiling good looks. And just when he thinks he has won Rayne's trust, his philandering past threatens to pull them apart.
She thought no man could ever touch her heart, until she met…The Riding Master.
•••••••••••••••
REVIEW: THE RIDING MASTER is the second instalment in Alexandrea Weis's adult, contemporary romance series. This is Rayne Masterson Greer and Trent Newbury's story with a 'tie in' to Alexandrea's Cover To Covers storyline.
The premise focuses on Rayne and Trent's building relationship and Rayne's inability to trust. Rayne's marriage ended when she caught her husband in bed with a much younger woman and she has had issues of trust ever since. Trent is the new riding master at Southland Stables where Rayne teaches the younger children to ride and their attraction to one another is immediate. With Rayne's inability to trust and Trent's history with innumerable women, Rayne's afraid of losing her heart to a man who makes it very easy for her to love.
The relationship between Rayne and Trent begins as friends but moves to lovers within a short period of time. Rayne's lack of experience in the bedroom is fueled by the knowledge that Trent is a man who knows what he wants and he wants Rayne for his very own. But the past has a funny way of sneaking into the present when both Rayne and Trent's exes show up to the same party where Rayne will be introduced to Trent's co-workers and friends. Perhaps there is someone working behind the scenes to ensure Trent and Rayne never get together.
The secondary characters are colorful and Rayne's emotions are fueled by their one on one conversations. Rayne is a stubborn and sometimes frustrating woman whose self image and self esteem have been damaged by her previous marriage. Add an alcoholic mother and the death of her father and we see a woman who has had very little to enjoy-her horse and her dog are the only true constants in her life.
Trent is a man of wealth and experience. Sure of himself and what it is he wants, Trent pursues our heroine but Rayne continues to push Trent away at every opportunity until she may have pushed him too far.
Alexandrea Weis writes a beautiful storyline of betrayal and trust; hope and love; second chances and a happily ever after. There is a small 'tie-in' to Weis's COVER TO COVERS storyline that gives THE RIDING MASTER a familiarity to the readers. Alexandrea will continue to add the 'tie-ins' in future storylines and we hope we see a little more about each of the couples introduced throughout the 'series'.
Copy supplied by the author.
Reviewed by Sandy

FOLLOW: Goodreads / Website/ Facebook/ Twitter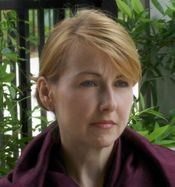 Born and raised in New Orleans, Alexandrea Weis began writing at the age of eight. In college she studied nursing and went on to teach at a local university. After several years in the medical field, she decided to pick up the pen once again and began her first novel,To My Senses. Since that time she has published several novels. Her work has been critically acclaimed, she has won several national awards for writing, and has been continually growing in popularity.
Alexandrea Weis is also a certified/permitted wildlife rehabber with the La. Wildlife and Fisheries. When she is not writing, she rescues orphaned and injured wildlife. She is married; they live in New Orleans .

Alexandrea is offering an ecopy of THE RIDING MASTER to one (1) lucky commenter at The Reading Cafe.
1. Please register using the log-in at the top of the page (side bar) or by using one of the social log-ins.
2. If you are using a social log-in, please post your email address with your comment.
3. LIKE us on FACEBOOK and then click GET NOTIFICATION under 'liked' for an additional entry.
4. LIKE us on Twitter for an additional entry.
5. LIKE Alexandrea Weis on Facebook for an additional entry.
6. Giveaway is open INTERNATIONALLY.
y. Giveaway runs from May 5 to May 9, 2014