HARD TO BE GOOD (Hard Ink 3.5) by Laura Kaye-Review and Book Tour
Hard To Be Good
Hard Ink 3.5
by Laura Kaye
Genre: adult, contemporary, M/M, romance
Amazon.com / Amazon.ca / B&N / KOBO / iTunes
ABOUT THE BOOK: Release Date April 7, 2015
Hard Ink Tattoo owner Jeremy Rixey has taken on his brother's stateside fight against the forces that nearly killed Nick and his Special Forces team a year before. Now, Jeremy's whole world has been turned upside down—not the least of which by a brilliant, quiet blond man who tempts Jeremy to settle down for the first time ever.
Recent kidnapping victim Charlie Merritt has always been better with computers than people, so when he's drawn into the SF team's investigation of his army colonel father's corruption, he's surprised to find acceptance and friendship—especially since his father never accepted who Charlie was. Even more surprising is the heated tension Charlie feels with sexy, tattooed Jeremy, Charlie's opposite in almost every way.
With tragedy and chaos all around them, temptation flashes hot, and Jeremy and Charlie can't help but wonder why they're trying so hard to be good.
REVIEW:
NOTE: HARD TO BE GOOD is a M/M storyline with adult situations and some sexually graphic M/M text.
HARD TO BE GOOD is the latest installment in Laura Kaye's adult, contemporary HARD INK series focusing on an elite group of ex special forces soldiers trying to prove their innocence in an Afghanistan mission that went horribly wrong. Kicked out of the Army with a dishonorable discharge, the Special Forces Team begins an investigation of their own. This is Jeremy Rixey (tattoo artist, owner of Hard Ink Tattoo and SF leader Nick Rixey's brother) and Charlie Merritt's (Becca's brother/the Colonel's son) storyline. HARD TO BE GOOD is part of an ongoing series, where each of the storylines are interconnected therefore I recommend reading the series in order for cohesion, backstory and continuous world building. The timeline events span less than three weeks over the series.
HARD TO BE GOOD picks up immediately after the events of book three-HARD TO COME BY-following the attack and explosion at Hard Ink Tattoo. From the local mob, former special forces soldiers turned rogue, and an unknown enemy, the SF gang at Hard Ink are targeted. Someone wants something, and they believe that Nick and his fellow Special Forces team are either protecting or know of the whereabouts of what it is they seek.
Charlie Merritt is Becca's brother- a computer genius and a victim of a brutal abduction that saw Charlie loss a part of his hand in the introductory storyline. Enter Jeremy Rixey, Nick's brother and owner of Hard Ink Tattoo, and the man who calls to Charlie's heart. As the gang tries to set up surveillance in the hopes of discovering the people behind the attacks, Jeremy and Charlie take their friendship to the next level. Jeremy is a bisexual male who knows what he wants, and Charlie continues to hide in the shadows at Hard Ink Tattoo.
The relationship between Charlie and Jeremy begins as friendship but the sexual tension is high. Everyone at Hard Ink is aware of the attraction between the two men, and with it comes the good natured shoulder slapping when they finally admit the truth.
All of the previous storyline couples are present as well as what remain of Nick's Special Forces Team. I believe there is a spin off in development that includes the Raven Riders Motorcycle Club-Nick and the Team's new allies in the war at home.
HARD TO BE GOOD is a sensual, passionate and hopeful storyline. Laura Kaye's HARD INK is an addicting series with intense and emotional stories. A great series and a talented author that will capture your attention and heart.
Reading Order and previous reviews
Hard As It Gets
Hard As You Can
Hard To Come By
Hard To Hold On To
Hard To Be Good
Hard to Let Go (June 2015)
Hard As Steel (September 2015)
Copy supplied by the publisher through Edelweiss.
Reviewed by Sandy
"You should be inside celebrating," Jeremy said, his
voice a raw scrape. "You and Marz did an amazing thing this morning." An hour
ago, Marz and Charlie had cracked open a heavily encrypted microchip that contained
a wealth of information that not only seemed likely to help the team clear its
name, but proved that Charlie's father hadn't been dirty, like they'd all
thought. "And I'm so happy for you about your dad."
A wounded darkness passed through Charlie's gaze, but
he finally nodded. "Didn't feel right without you there." Pink filtered into
his cheeks, and damn if that wasn't as cute as it was sexy. Jeremy wasn't sure
anything had ever made him blush.
"I'm just not—" Jeremy shrugged and looked down at Charlie's
chest again. Having seen the guy dress more than once, he knew that shirt
covered lean muscle that ran from strong shoulders down to his narrow hips.
Jeremy fisted his hands against the urge to burrow them under the hem of the
tee. After weeks of looking, and wanting, he was dying to touch. Jeremy found Charlie hard to read though, and
hadn't wanted to do anything to scare him off. "—very good company right now.
I'm sorry if that—"
Charlie nudged Jeremy's chin up with his hand, his
fingers just barely touching Jer's stubble-covered skin. But then his thumb
landed softly against his lips.
Jeremy's heartbeat kicked up and his lips fell open.
Slowly, oh so tentatively, Charlie stroked the soft pad of his thumb back and
forth across them.
"Charlie," Jeremy whispered as arousal surged through
his body, spiking his pulse, tensing his muscles, hardening his dick.
Uncertainty poured off Charlie as the man's hand
trembled where it touched him, but those blue eyes absolutely blazed desire. No
way was Jeremy imagining that.
"You're always good company, to me," Charlie said in a
low voice, his gaze dropping to Jeremy's lips. Charlie leaned in closer, and
closer still, and Jeremy could hardly believe the other man was the one to
initiate this. But he was fucking thrilled.
Jeremy swallowed, his lips anticipating that first
soft brush. Charlie was so close his shaky breath caressed Jeremy's lips. His
pace was maddening but so damn sexy Jer could barely breathe. And then
Charlie's eyelids fluttered closed and he was right there…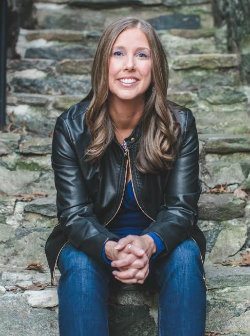 Laura is the New York Times and USA Today bestselling author of over twenty books in contemporary and paranormal romance and romantic suspense. Growing up, Laura's large extended family believed in the supernatural, and family lore involving angels, ghosts, and evil-eye curses cemented in Laura a life-long fascination with storytelling and all things paranormal. She lives in Maryland with her husband, two daughters, and cute-but-bad dog, and appreciates her view of the Chesapeake Bay every day.
Website | Facebook |Twitter | Newsletter
SignUp
NOTE: The Reading Cafe is NOT responsible for the rafflecopter giveaway. If you have any questions, please contact the tour promoter